About Cicor
The Cicor Group is a globally active provider of full-cycle electronic solutions from research and development to manufacturing and supply chain management.
Cicor's approximately 2,500 employees at 15 sites are serving leaders from the medical, industrial and aerospace & defence industries. Cicor creates value to its customers through the combination of customer-specific development solutions, high-tech components, as well as electronic device manufacturing.
The shares of Cicor Technologies Ltd. are traded at the SIX Swiss Exchange (CICN).
Global Footprint
Its global presence and proximity to customers is a key success factor for Cicor.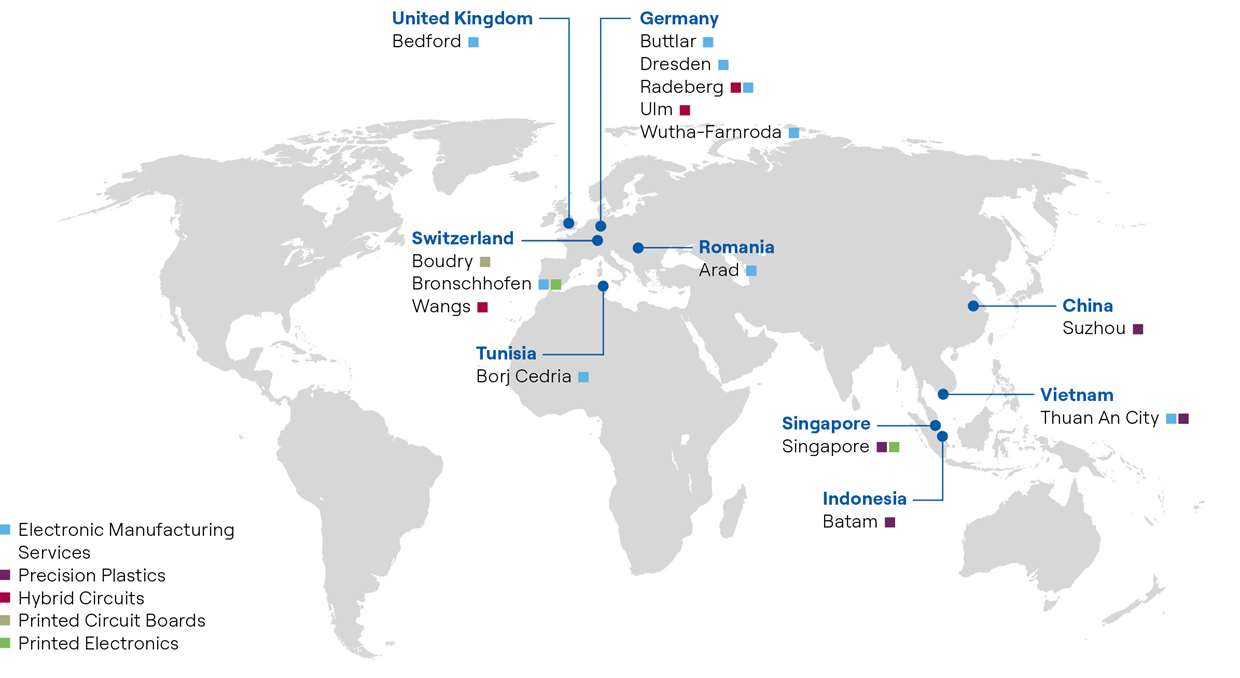 Services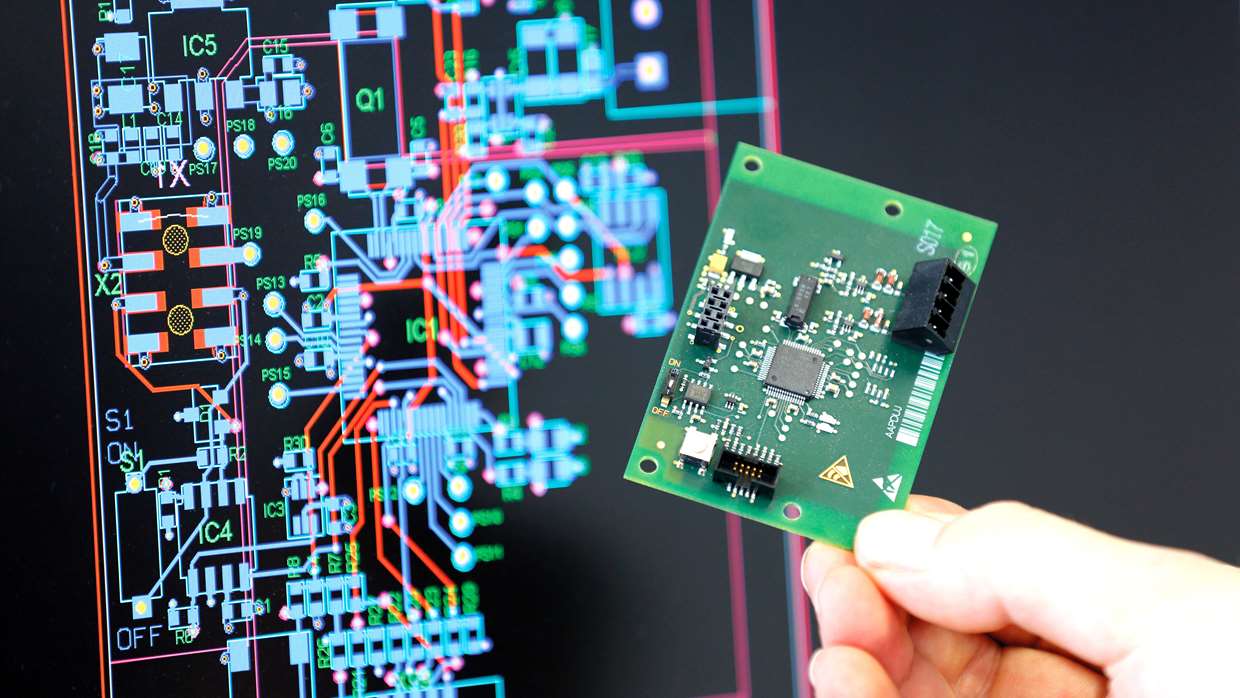 Engineering Services
At the Cicor Group, more than 200 well-trained engineers work on cus­tomer projects and make the engineering department a unique selling point of the company thanks to their interdisciplinary competencies. Us­ing efficient methods and tools, they support Cicor customers in the ar­eas of hardware and software engineering, PCB layout and component selection, test engineering, tool design, printed electronics, and process and quality management throughout the entire product life cycle.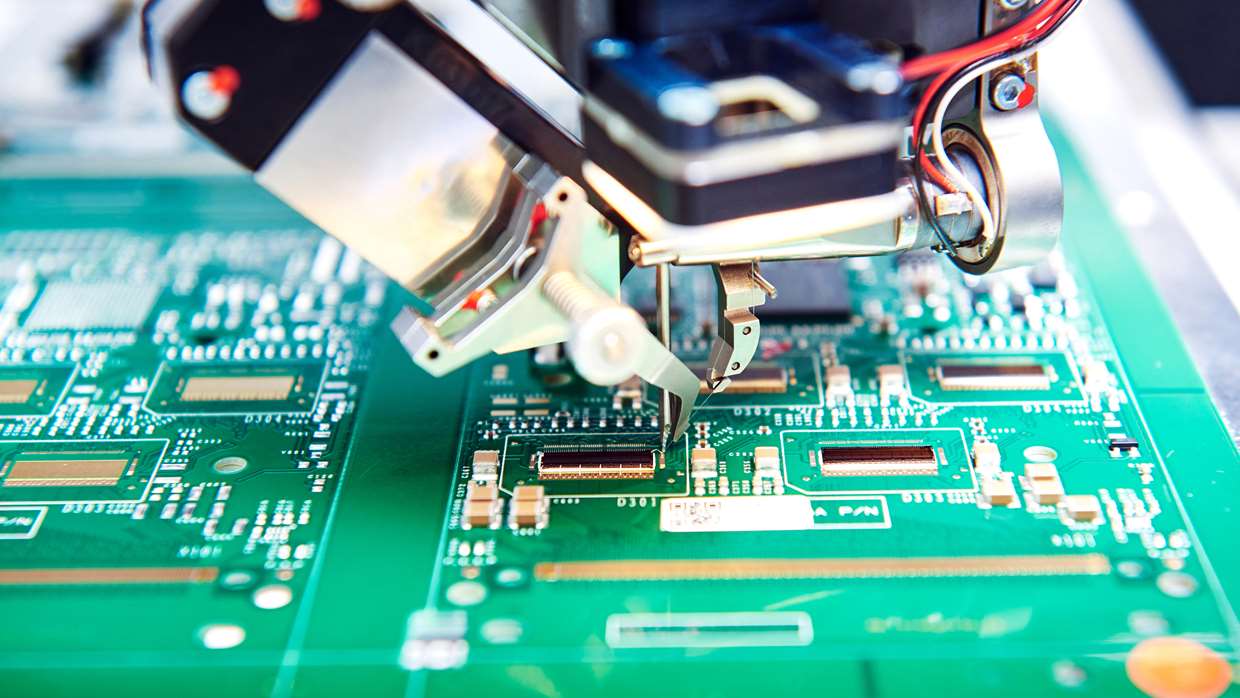 Electronic Manufacturing Services
Cicor creates added value for its customers by combining customer-specific engineering services and the manufacturing of electronic boards and devices. With a broad manufacturing spectrum in the areas of printed circuit board assembly including microelectronics assembly, cable confection as well as box building, Cicor offers individual outsourcing solutions from the idea to the finished electronic product from a single source.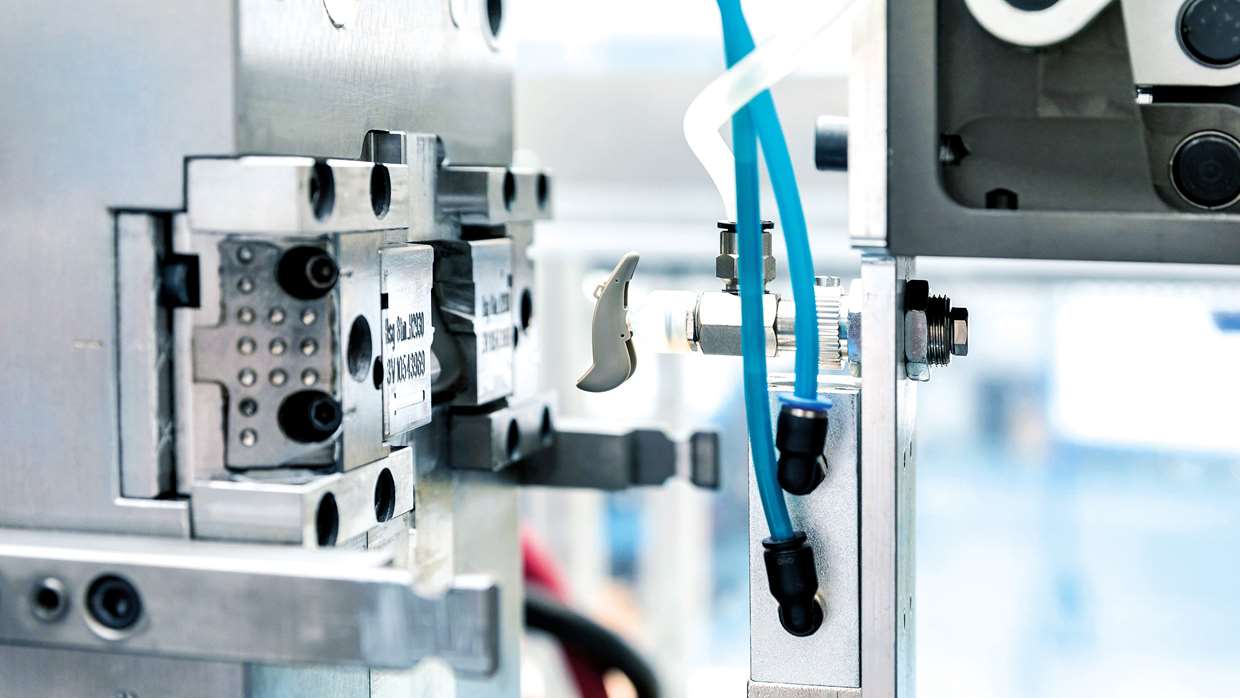 Precision Plastics
Leading companies in the medical technology and industrial sectors trust in Cicor as a production partner for high-precision plastic injection molded parts and mechanical assemblies. Cicor supports customers with regard to tool design and fabrication through to series production of high-precision plastic parts and complete devices including electronic assemblies. The efficient cooperation of the development engineers with the production departments results in a close exchange of knowledge and technology.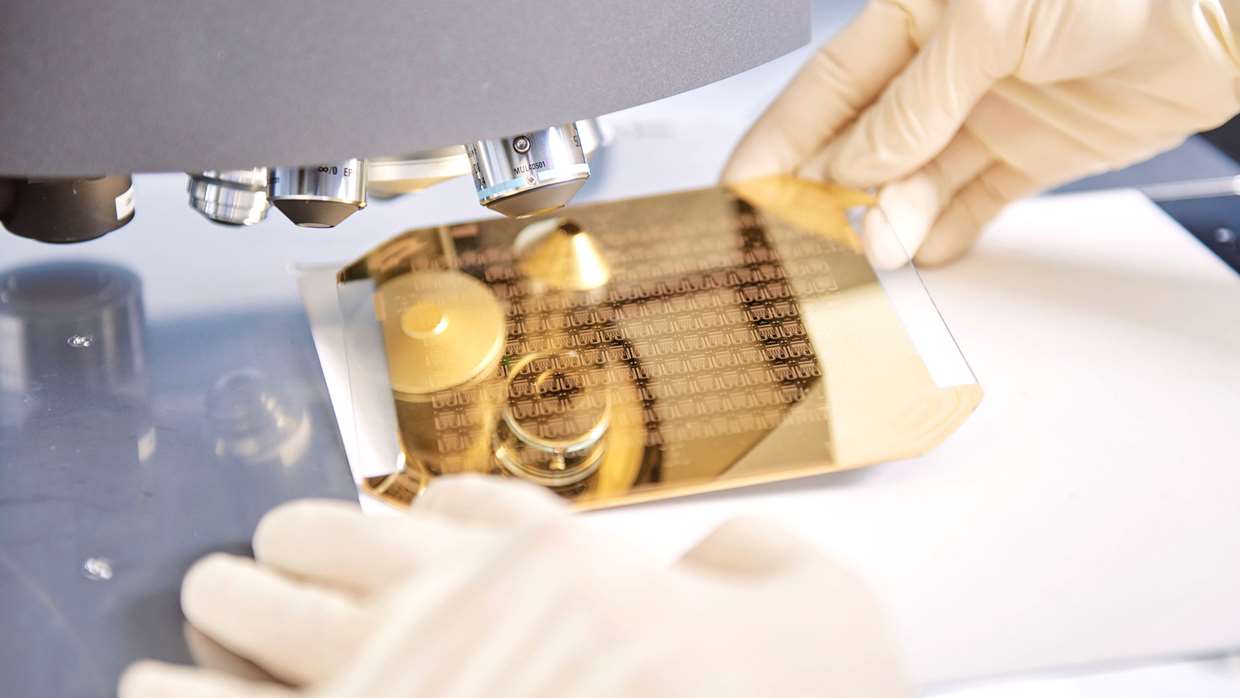 Hybrid Circuits
Thin-film substrates are used where conventional PCB technologies cannot provide an adequate technical solution. Cicor manufactures rigid and flexible multilayer circuits with highest resolution (10 μm) on ceramic or organic materials. In thick-film technology, the conductor tracks are applied by screen printing and then burned in. A thick-film circuit is clearly superior to the standard PCB in terms of temperature resistance and service life.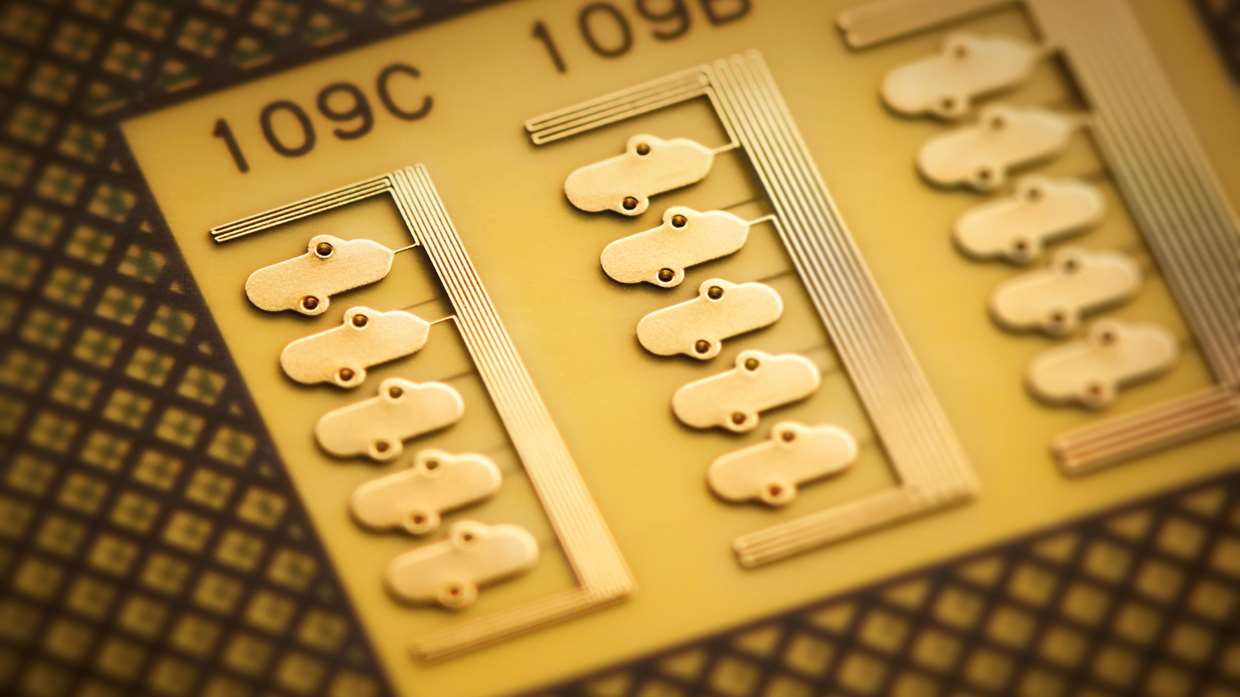 Printed Circuit Boards
For over 50 years, Cicor has been developing and producing sophisticated flexible, rigid-flexible and rigid printed circuit boards (PCBs). Thanks to a comprehensive expertise in multilayer boards (MLBs) and high-density interconnects (HDIs), Cicor develops innovative and reliable solutions for demanding applications. Thin materials and line width and spacing down to 25 µm enable extreme miniaturization and ultra-HDI advanced solutions. DenciTec® technology opens up completely new possibilities.Innovative circuits can be produced by combining our PCB processes with our thin-film technology.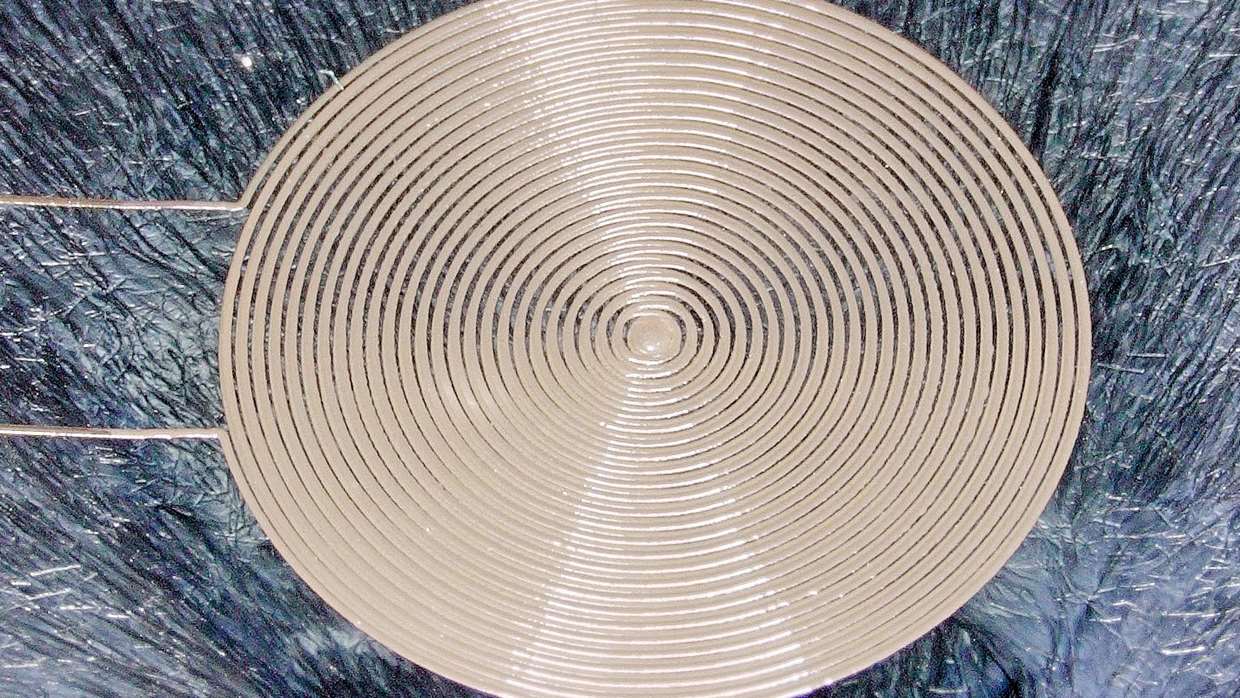 Printed Electronics
The unique printing technology used by Cicor enables a wide range of conductive, non-conductive and biocompatible materials to be printed on a wide range of substrates and shapes. Compared to the methods used today to produce such three-dimensional circuit carriers, the technology chosen by Cicor offers a significantly wider variety of printed and printable materials. Devices for medical, aerospace and IoT applications can be significantly reduced in size by using this technology.
Markets
Medical Technology
Medical devices are essential for improving healthcare worldwide. Wearables enable people around the world to hear, see and live better. Cicor has been developing and manufacturing medical devices for decades, combining increasingly sophisticated functions in the smallest possible space.
Industrial
For over 50 years, Cicor has been supporting its customers in the development and production of complex solutions for industrial electronics and building technology products that meet the high demands of today and tomorrow. Thanks to its global footprint, integrated planning systems and flexible logistics models, Cicor is always close to its customers.
Aerospace and Defence
Highly reliable equipment is crucial for mission and life critical applications. For over 30 years, Cicor has supported strategic international programs and collaborated with market-leading prime and tier one companies.